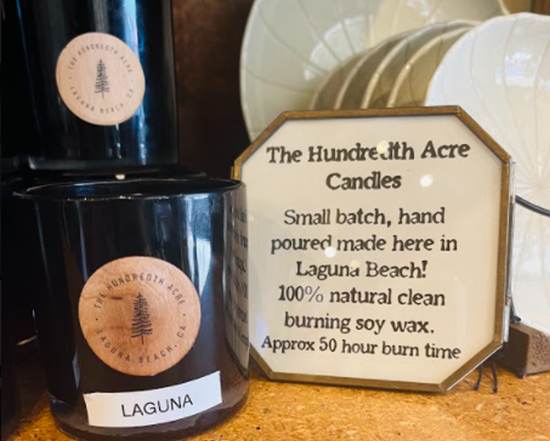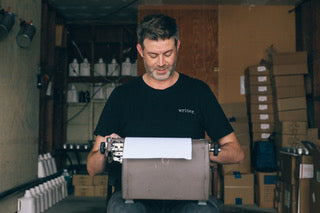 The Hundredth Acre was established in 2016 by Robert Brink, a storyteller by trade and Laguna Beach native.  He used scent as a vehicle to induce memory and share past experiences with others, in hopes that they reminisce fondly on their own. Laguna Beach local, Kirsten Montgomery stepped in to expand this vision in 2021 by incorporating aesthetics that include vintage ephemera such as books, typewriters, libraries, and nature with an additive of everyone's favorite, Moms Kitchen. Kirsten(Kiki) Montgomery found herself in Laguna a decade ago. She was settling into a new life after a divorce and felt unfulfilled. Her escape became alcohol; however it wasn't making her happy. When the pandemic hit and the town shut down, her drinking become more isolated and soon she had hit rock bottom..
A change was in order.
Sober since December 16, 2020 Kiki turned her newly clear headspace inward.
She lit candles around the house to help aid her reflection - different aromas generating a variety of feelings, memories, and passions
 And then suddenly it clicked — what she needed was light. When she heard a friend from the past was looking to sell his candle company, she jumped at the chance.
These were candles with a playful vibe, based on influential stories from your childhood that made you smile.It was a perfect match.
Kiki learned how to hand pour 100% natural, clean-burning soy wax derived from soybeans grown in the USA, the importance of phthalate-free fragrance oil never tested on animals, and how to pick a wick. 
Each candle is a tribute to Laguna, and each candle cover is hand-cut from vintage literature books purchased from the Laguna Beach Library used bookstore with proceeds helping to fund local children's reading programs.
For Montgomery, the Hundredth Acre Candles symbolize much more than a new career direction — each flame burns with change, reflection, and the rebuilding of strength and determination.
Behind the Scene